Venison Quiche
Filed under: Recipes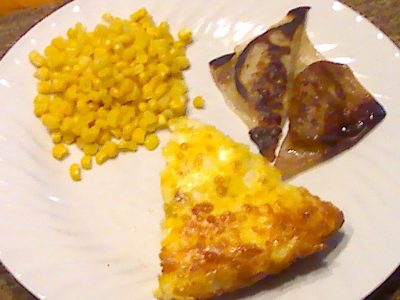 Ingredients:
1 pound ground venison, cooked
½ pound breakfast sausage, cooked and drained
12 eggs, beaten
½ cup flour
1 teaspoon baking powder
16 oz. small-curd cottage cheese
¼ cup melted margarine
3 cups shredded co-jack cheese
½ cup chopped onion, cooked until soft
4 oz sliced fresh mushrooms
Instructions:
Grease two 9-inch round baking dishes.
Mix ground venison and breakfast sausage together evenly.
In a large bowl combine eggs, flour and baking powder together thoroughly.
Add cottage cheese, melted margarine, shredded cheese and onion to egg mixture.
Spread sliced mushrooms into bottom of one dish.
Spread ½ of meat mixture evenly into each dish.
Spread ½ of egg mixture evenly into each dish. Dishes will be very full.
Cook in 375 degree oven for 35 – 40 minutes or until a knife inserted near the center comes out clean.
This recipe was inspired by the Warm You Up Sausage Quiche recipe here.